Hartpury Manor belonged to the Abbey of Gloucester, and in about 1300 John de Gamages, the Abbot, built his country residence here alongside the church.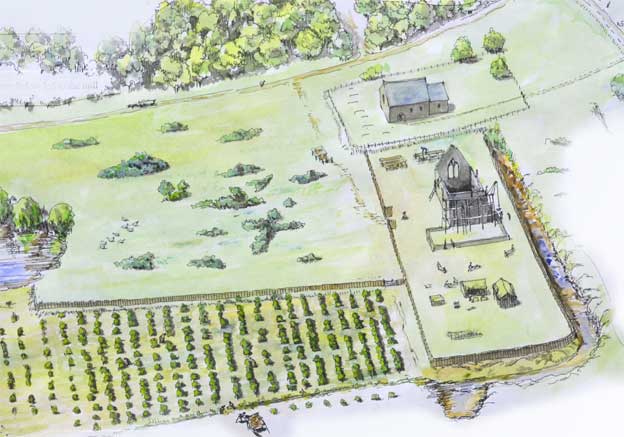 An intensive building programme of the 14th century continued with additions to the manor house, the building of the tithe barn and the adjoining dovecote, and the development of smaller monastic granges in the neighbouring hamlets. This development of the manor appears to have predated other ecclesiastical manors in the area, such as Frocester (also St Peter's Abbey), Bishops Cleeve (Bishops of Worcester), and Ashleworth (St. Augustine's Abbey, Bristol).
Examination of the medieval field systems around the church reveals the settlement's expansion over earlier cultivated areas both as a result of the general growth in population at this time and of the expansion of the settlement around the church.
In the 13th century, Hartpury was one of the largest of the Abbey's holdings with over 1700 acres of tenant land as well as the demesne estate. Rents were sometimes paid in kind, apples, pears and honey and even from one tenant a sheep with twelve pence tied around its neck. Following successive gifts, the Abbey's local estates eventually comprised the parishes of Hartpury, Maisemore, Highnam, part of Lassington, Upleadon, Highleadon, Rudford and Churcham.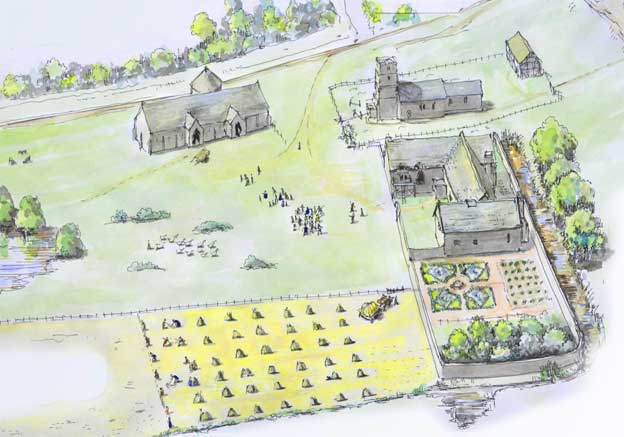 Although they were pioneers in sheep rearing on a large scale on the drier soils of the Cotswolds, the Benedictine monks seemed not have kept sheep at Hartpury. The climate and soil favoured mixed farming, although it is possible that the more specialist crops associated with the woollen trade, such as teasels or the various plants yielding dyes, might have been grown. A lease of the Manor in 1539 specifies 'The yearly rent to be delivered to the Cellarer of the Monastery (Gloucester) of 36qrs. of wheat 3qrs. barley and 30qrs. oats to the Kitchener of the Monastery 30 geese 20 ducks 40 pullets 20 capons and 300 pigeons, also 1 boar [presumably from Corse Chase] or 6s.8d. at the election of the Abbot, at Christmas. The lessees also to cut and carry to the Abbot's house all necessary fuels and repair all houses and buildings on the site outside the walls of the principal mansion save for the great barn and pigeon house'. The lease reserves to the Abbot the principal mansion within the walls. Also mentioned are the Abbot's water mill and vineyard. The great barn would have been used by the Abbey to store produce from the manor.