In 2002, the published histories were all agreed: the Bee Shelter was medieval, built for the convent of Holy Trinity at Caen in Normandy. The stone came from Caen and the honey and wax when harvested were taken there. The structure comprised 28 stone recesses or boles supported on Tudor arches. Tudor? Medieval? The 'listing' description said 17th century and experts even questioned whether it was Caen stone!
Before restoration could begin, the conflicting historical traditions had to be resolved.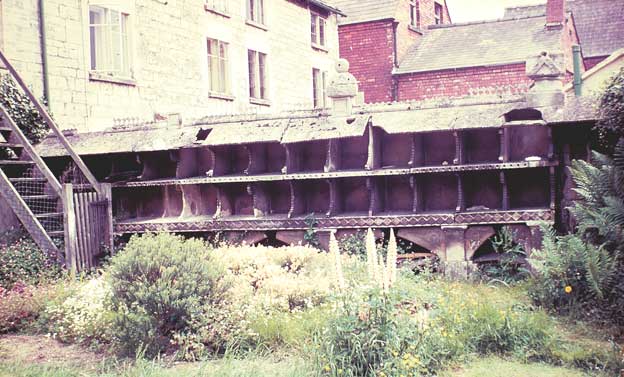 Old deeds in Gloucestershire record office quickly resolved the first question by actually naming the stonemason responsible as Paul Tuffley. He had built the Bee Shelter in the garden of the house in which he lived until 1852 (when his mortgagee repossessed and sold it!). Local geologist and historian Arthur Price was consulted. He knew of successive generations of the Tuffley family who were Victorian stonemasons and quarry masters, and who used the canal network to supply Cotswold stone throughout Britain.
Arthur Price established that the Bee Shelter had been constructed from Cotswold limestone, part weatherstone and part freestone. The original freestone slabs would have been cut with a crosscut (two man) or frigbob (one man) saw, from squared and scabbled blocks. Axe marks can be seen beneath some of the shelves, showing that they were the first pieces to have been sawn from the block. This axe and saw work would have been performed in the underground quarries. The visible tool marks are all typically Victorian, using the technology of the time – routing, core-drilling, sawing, fretting and chiselling. The ornamentation was described by restoration consultant Rory Young as being 'within the vocabulary of a provincial stonemason of the period, although architecturally ungrammatical'! The partition brackets he considered 'utterly curious and unique'.