Albert's Orchard Hare!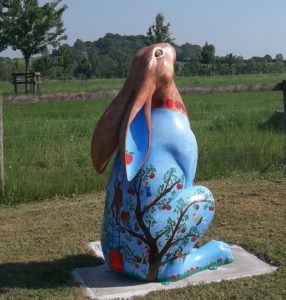 This massive 5′ high hare, decorated by Sarah Davis, has taken up residence for the summer at the Orchard Centre. He sits gazing across the orchard to Catsbury hill.
He is one of the hares in the AONB Cotswold Hare Trail – see www.cotswoldsharetrail.org.uk
He can be seen from the road, or accessed via the kissing gate at any time.
The Hare Trail leaflet can be picked up at the Orchard, and you can then drive all over the county seeing the others – with competitions to enter if you see them all!