The naming of perry pears is very confused. There are nearly 100 varieties in Gloucestershire known by over 200 names. The names variously reflect their parish, season of ripening, breeder, shape or colour or perhaps simply their taste or effect! Many varieties bear different names in different areas, with the added confusion that sometimes the same name refers to different varieties in different areas.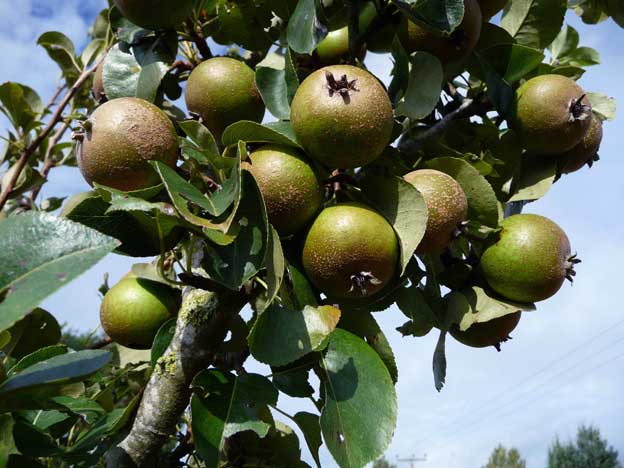 This is well illustrated by the pears in Hartpury's churchyard, where in addition to the HARTPURY GREEN, known since the 17th century, the following are to be found:
ROCK: Known as the Brown Huffcap in Hartpury, this pear is called Red Huffcap in Newent, but Black Huffcap in Highnam! Perhaps it is understandable that in Haresfield it is called Mad Cap and in Bromsberrow Mad Pear, although this is more on account of the effects of its considerable potency than its erratic nomenclature.
BLAKENEY RED: Probably the most common perry pear now found locally, in the 1600s this pear was regarded as suitable to be eaten raw, cooked, or made into perry. At one time it had an unfortunate reputation for its diuretic properties, to the extent that it became known as the Circus pear – once round and out again! This was probably caused by farmers milling rotten fruit. Perry unlike cider must always be made from fruit vintage ripe, and preferably of only one variety. In 1963 it was estimated that in most seasons Blakeney Red contributed the largest tonnage to be made into perry of any variety. Also used for pickling and canning perhaps its strangest use was during the 1st World War by the dye industry to produce khaki, thus justifying the proud claim by one grower that 'thic pear won that thur war – it gave Tommy good drink, good food, and clothes for his back!' In Blakeney called the Red Pear, the name is used for totally different varieties in other areas. In Dymock, Red Pear refers to the Aylton Red. In Newent yet another pear is called the Dymock Red, however this pear in Upleadon is known as Billy Thurston's – confused?
OLDFIELD: An ancient pear – in his Pomona of 1664, John Evelyn speaks of a gentleman who had some bottles of Oldfield perry, where 'the perry was over 40 years old and as rich and high flavoured as ever'. Known as Hawfield in Tirley, this could possibly give a clue as to its origin. The Haw appears in the Domesday Book, as a Manor of Deerhurst Priory, which then belonged to the abbey of St. Denis in Paris.
MOORCROFT: A more modern variety of perry pear, probably dating from the 19th century. Was this the perry known to Hartpury's poet Will Harvey? A Moorcroft Farm lies close to Redlands, his later home in Minsterworth, but it is thought the name is derived from Moorcroft Farm, Colwall in Herefordshire. Also known as Malvern Hills, it is called Stinking Bishop in Minsterworth's neighbouring parish, Highnam. In some areas it bears the name Choke, used historically for all pears that made perry in the same way that Styre was used to refer to all apples for cider.
BUTT: In the 18th and 19th centuries the perry made from this variety was recognised as ideal for diluting wines and spirits. It was widely bought for that purpose by wine importers in Bristol and London.
STAUNTON SQUASH: Sometimes referred to as the Squash pear or the White Squash of Corse, this is also one of ancient lineage, since although the famous Squash pear mentioned since 1691 is probably the variety now known as Taynton Squash, seedlings with similar characteristics adopted the name. Staunton Squash is one of the pears illustrated in the Herefordshire Pomona. It is very appropriate that it should appear in Hartpury's churchyard because the parishes of Hartpury, Corse and Staunton now form a united benefice within the Diocese.
CORSE HILL: An interloper in the collection of Perry Pears, this is generally regarded as an apple used for cider, although the fruit is really dual purpose if left to ripen fully. It is only right that the tree most closely connected with Hartpury's neighbouring parish Corse, should be included in the orchard.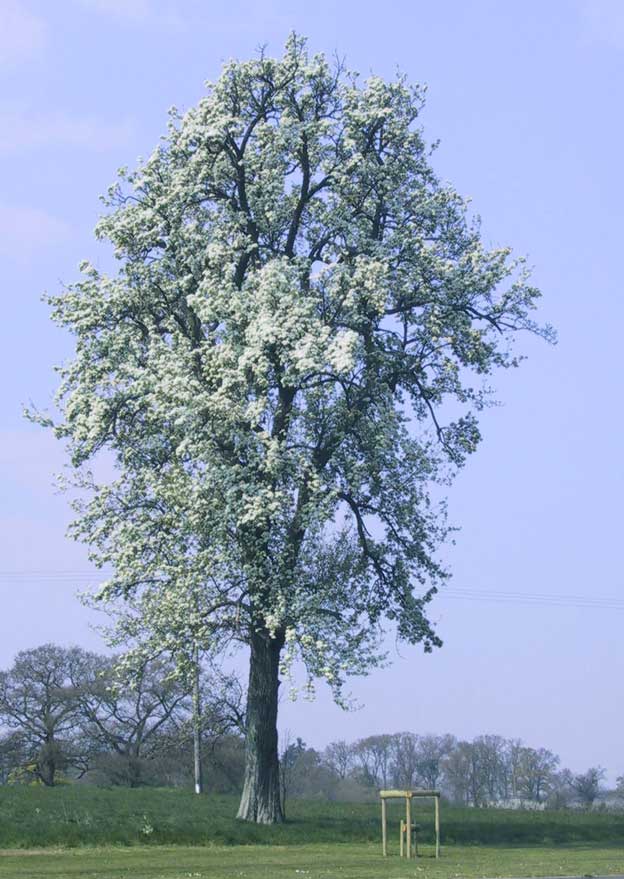 A leaflet about perry pears is available: Please follow this link.